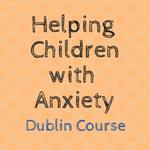 'Helping Children Overcome Anxiety' Parent Course
Covering the needs of children aged 3 to 16 years, in this course for parents, John Sharry will present a strengths-based model for understanding anxiety that shows how you can help your children employ their imagination and strengths against the anxiety that bothers them.
This course will take place on Sunday 15th April at the Carlton Hotel Blanchardstown, Dublin from 9am-1pm.
Further details and bookings are available here.