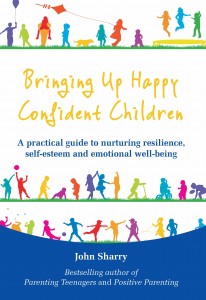 'Building Resilience and Self-esteem in your Children and Teenagers'
A half-day course for parents with Prof. John Sharry
Many parents are concerned about their children and teenager's lack of self-esteem and worry that this will lead to poor confidence as they grow up.  In this course, based on his book 'Bringing Up Confident, Happy Children', John Sharry will present a new model of self-esteem that focuses on core parenting values and what facilitates people to lead content happy lives.
Practical tips will be provided on how to motivate children to learn in a positive way that builds on their strengths and which increases their sense of value and self-esteem. Topics include:
– Help children discover and express their talents and passions
– Motivate children to learn in a positive way that builds on their strengths
– Help children learn new skills and to be resilient to challenges
– Keep connected to your children in a supportive way
This course is suitable for parents of children of all ages to attend.
Venue: Blanchardstown Carlton Hotel
Date: Saturday 28th March 2020
Time: 9.00am-1.00pm
Cost: one place: €60 (€49 + €11 VAT), two places: €110 (€90 + €20 VAT)
Places are limited so pre-booking  is essential. 
This course has been postponed due to coronavirus measures and will be rescheduled. Please email if you would like to be contacted when a new date is arranged.