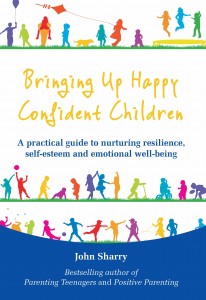 'Building Resilience and Self-esteem in your Children and Teenagers'
A half-day course for parents with Prof John Sharry
In this course, John will present a new model of self-esteem that focuses on core parenting values and what facilitates children to grow up as happy confident adults.
Practical tips will be provided on how to:
– Help children discover and express their talents and passions
– Motivate children to learn in a positive way that builds on their strengths
– Help children learn new skills and to be resilient to challenges
– Keep connected to your children in a supportive way
This course is suitable for parents of children of all ages to attend.
Venue: Salthill Hotel, Galway
Date: Sunday 16th February 2020
Time: 9.00am-1.00pm
Cost: one place: €60 (€49 + €11 VAT), two places: €110 (€90 + €20 VAT)
Places are limited so pre-booking  is essential. 
To book places on this course complete the form below and click 'Book now'. This will take you to the paypal payment page.
If you would prefer to pay by cheque or bank transfer please contact us.