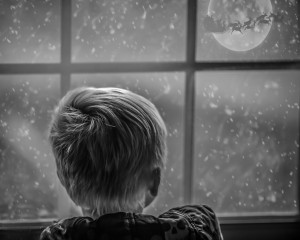 QUESTION: My wife and myself separated last February. We had not been getting on for several years and I finally moved out and now live with my father. I thought things might improve with us living apart, but in fact they seem to have got worse and it has been very hard the past year for me to see my two boys (four and six). Through the court, I have been granted weekend access and once during the week. This has been going okay, though my boys are reluctant to stay over with me at their grandfather's house. Because they live nearby, they often prefer to go home and sleep in their own beds.
Over Christmas, the court ruled that I can see my children on Stephen's Day and the New Year, but they will stay with my ex-wife for Christmas Eve and all of Christmas Day. As we come to Christmas I realise how much I am going to miss them this year. I feel I have been treated unfairly and am cut out of a lot of their lives. To be honest, I feel in a much worse position than I was last Christmas. Even though there was a frosty silence between my wife and I, at least I was there with my kids. Now I will be alone.
ANSWER: Experiencing relationship break down and separation is one of the hardest things you can go through as a parent. It is particularly challenging at Christmas when family events and togetherness are highlighted and your own particular losses are experienced acutely. The first Christmas is often the hardest, when you are adjusting to a new living situation that might be still far from ideal.
As a father, not being there with your children for the special moments of Christmas Eve and morning can be very hard and this can be especially difficult if you are alone yourself. Though it can seem like a workable practical arrangement for one parent to have the children at Christmas and the other at the New Year, frequently this is difficult for the children and the parents who might prefer more frequent contact at this special time of year.
Negotiate with their mother about Christmas arrangements
While it may be short notice to try to change this year's arrangements, there may be some scope for negotiating with their mother about making things a little easier. Perhaps there is scope for you to visit on Christmas morning or to take them out for a short walk or perhaps you can at least talk to them on phone or by Skype on Christmas morning. How much you can negotiate depends of course on the relationship you might have with their mother.
In trying to reach agreement, it is very important to try to see the situation from her point of view as this will help you reach better compromises. For example, though you might think she is coping well, it is quite likely that she will be experiencing her own acute upset and loss at Christmas. As the residential parent she is probably dealing with challenges of parenting and the demands of the two children alone and without the support she would like. The more you can avoid blame and try to understand things from her perspective, the easier it will be to negotiate better solutions.
Understand things from your children's perspective
It also helpful to consider how your children might be feeling this Christmas. Generally, young children find their parents' separation stressful and frequently get caught up in their parents' conflicts and can feel emotionally caught in the middle. They value it enormously if both their parents remain involved in their lives and if they learn to get on and co-parent appropriately.
They can find it harder to stay connected with the parent who has left the family home and can need support regarding this. Wanting to return home to their "own beds" is all normal and represents their need for things to be secure and the same in changing times. Try not to feel rejected by their behaviour and patiently persist in staying involved and building a second home for them.
Make the most of the arrangements you have
Even if it is not possible to change things this Christmas, commit to making things the best they can be for your children and yourself. Make a plan for how you might use the time you have with the two children. Try to think of rituals, events or visits you can do with them that you might all enjoy and which will be meaningful to you.
Make a plan also for the time you will be alone and be sensitive to your own feelings of upset at Christmas. Post separation, parents' own mental wellbeing can take a nose dive so try to be aware of this. Avoid negative coping strategies such as drinking and instead reach out and get some support. The more you cope personally, the better you can parent your children.
Take a long-term perspective
In the aftermath of a separation, relationships between parents can be challenging as ex-partners try to work out new living arrangements which might be more difficult for both of them in the short term. However, with time and perspective things can improve and it is important to hold on to this. Make a plan to seek support next year to resolve things better for yourself and your children. Consider contacting support services such as mediation to help you. I have uploaded a full list of services on www.parentsplus.ie/separationsupports that may be helpful and information on the Parents Plus Parenting When Separated course is here.
Dr. John Sharry, Irish Times Newspaper, December 2013. John writes in The Irish Times Health Plus every Tuesday.