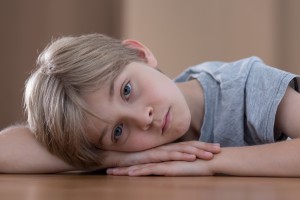 QUESTION
My son is 10 years-old. His grandfather died four years ago after a two-year battle with cancer, when my son was six. There was a warm special bond between the two and he was understandably upset. However, even now, over four years on my son still seems to be grieving. He gets visibly upset when he visits places that remind him of his grandfather and he misses him greatly. His grandmother's house is also upsetting because he had a lot of happy memories there too and he is always hesitant to visit.
His mother and I talk fondly about my father regularly, what he'd say or do in particular situations. We think that at this point the grief should have passed to a greater extent. In your opinion should he see a grief counsellor?
ANSWER
Just as with adults, the grief process for children can be very individual and unique to that child. Some children cope relatively quickly with the loss of a grandparent and are able to put the loss into context and move on. For some it can be an up and down process, with the grief returning occasionally as they cope over time.
For others it can be a more difficult longer-term process especially if the death was traumatic or if they were particularly close to their grandparent. In those situations, children will need lots of patience support and understanding to help them cope. Below are some ideas.
Encourage your son to talk
When your son appears upset about his grandfather, it is important to listen carefully and to encourage him to talk. Help him express whatever thoughts and feelings are on his mind at this point – remember some of these might be hard for him to articulate.
For example, if he is reluctant to visit his grandmother's house, gently ask him what makes it hard for him to go. It could be that visiting brings up sad memories or he may have a particularly upsetting memory that he is trying to avoid.
It would help him greatly if he could talk about his worries and fears, especially if he has not spoken about them before. In addition, many bereaved children harbour a fear that they could lose someone else close to them.
As well as missing his grandfather, his grief could be a sign of his worry that he might also lose you or his mother. If this is the case it is best if he can express these fears rather than repress them as this gives you a chance to put them in context and to reassure him.
Encourage positive remembering
As you are already doing, it is a good idea to encourage positive remembering about his grandfather. Having fond conversations and remembering the things his grandfather said and did and periodically reviewing old photos etc are all helpful ways to deal with loss and grief.
If you don't do so already, you might also help your son put together a series of mementos of grandfather that he can keep safely. If possible, you could consider asking his grandmother to help with this – it could be useful for them both if they had time together preparing this.
In addition, you can organise periodic visits to his grandfathers grave or an annual remembrance ceremony that your son can attend all of which can provide times of positive remembering.
Should I get counselling for my son?
If you think that your son's grief is stuck or if it is holding him back, then it may be a good idea to consider arranging some counselling. It is important to set this up thoughtfully so as to best help your son. For example, you should locate and talk to the counsellor first, and be prepared to attend meetings yourself.
In addition, it would be a good idea to give your son a choice about attending. For example, you might say to him, "Mom and I notice how you often get upset about Grandad, we wonder would you like to talk to someone outside the family about this? We have met a counsellor who is very good and who might help you". If he is unsure about going, you can postpone attendance until he is ready.
Counselling services
In identifying a child counsellor or therapist there are many reputable accrediting bodies such as iacp.ie, playtherapy.ie, psihq.ie or counsellingdirectory.ie. Make sure to identify a therapist who is experienced in helping children around grief.
In addition, Barnardo's run a children's bereavement service and have a helpline you can call for support, tel: 01-4732110. Rainbows Ireland run small group programmes, in schools and community services, for children who have experienced a loss, see rainbowsireland.com, tel: 01-4734175. Attending a group could be particularly helpful to your son, in making him realise that he is not alone and that lots of children go through similar experiences.
Helping your son yourself
As a parent, you can also do a lot yourself to help your son, either in parallel with counselling or as an alternative to it. There are some excellent books and resources online that you can read together, have a look at childhoodbereavement.ie for some ideas.
In particular, I recommend When Someone Very Special Dies by Marge Heegaard. This is a workbook that contains simple writing and drawing exercises, focused on helping a child work through his feelings about loss, and to identify coping skills. You and your son could complete the relevant parts of book together over a series of weeks. There are many advantages to doing this, in that it could help both of you to manage grief as well as build a special bond between you.
John Sharry, Irish Times Newspaper, September 2016. John writes in the Irish Times Health+ every Tuesday.
For details of John's courses for parents visit www.solutiontalk.ie