Read John Sharry's 6-part series of articles on how you can help promote positive self-esteem, confidence and emotional wellbeing in children and teenagers. (originally published in The Irish Times June-August 2016). John writes in The Irish Times Health+ every Tuesday.
Click on the links below to read each article: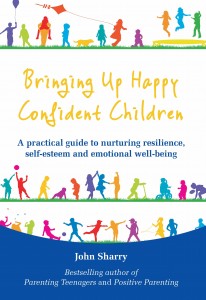 Part 1: Building your child's self-esteem
Part 2: Love your children uniquely, not just equally
Part 3: Helping your child find their niche
Part 4: Encouraging your child's potential
Part 5: Teaching responsibilty and skills
Part 6: Helping your child to make a difference
For further information read John's book: 'Bringing Up Happy, Confident Children: A practical guide to nurturing resilience, self-esteem and emotional wellbeing'
For more information on building your children's self-esteem:
John will give a talk on 'Building Self-Esteem in Children and Teenagers' in the Carlton Hotel, Blanchardstown, Dublin on Wednesday 28th November 2018. Click here for details.