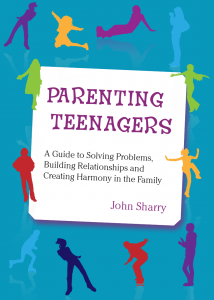 'Parenting Pre-Teens and Teenagers'
A 3-night Course with John Sharry for parents of children aged 10-16yrs.
Topics include:
• Getting along with and understanding your teenager
• Setting rules with teenagers
• Dealing with conflict/ Positive discipline
• Encouraging your teenager and building their confidence
Venue:  Hilton Garden Inn (formerly Jurys), Custom House Quay, Dublin City
Date: 3 week course, Mondays 7th,14th & 21st November 2016
Time: 8-9.45pm
Cost:
Single place: €85.00 (€69.11+ €15.89 VAT) includes 'Parenting Teenagers' book.
Two places: €150.00 (€121.95 + €28.05 VAT) includes 2 'Parenting Teenagers' books
Places are limited and pre-booking is essential. You can book via paypal by following the information below. If you would prefer to pay by cheque or bank transfer please email bookings@solutiontalk.ie for details.